Living the Manhattan Garden City Dream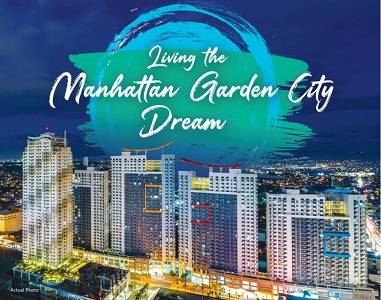 Dreaming about traveling the world, scoring first-class seats to amazing shows, growing businesses, or merely nurturing the family is everybody's guilty pleasure.
And while no one is exempted from life's hardships, it's great to know that these dreams could turn into reality in one local community that is lovingly and carefully built in the heart of Metro Manila.
Towering across the ebullient skyline of what is now called the Araneta City in Q.C. are eleven high-rise residential condominiums, with seven more towers to be added, that define the first luxurious transit-oriented homes in the country.
A Connected World
Propelled by the joint masterplan of Megaworld Chairman Dr. Andrew L. Tan and Araneta Group Chairman Mr. Jorge L. Araneta, Manhattan Garden City (MGC) was envisioned to connect homeowners to world-class entertainment venues, shopping malls and offices via elevated walkways, as well as to the rest of the metro and provinces thru excellent transportation options.
For starters, Manhattan Garden City was projected to promote a sustainable, walkable community via the provision of 1.5-km interconnected, elevated garden walkways that lead to malls, concert grounds, and transit systems; offering seamless and exclusive connectivity to homeowners.
From drawing board to reality, this address today is the only point in Metro Manila where the MRT line 3 and the LRT line 2 intersect – offering convenient public travels from university belts to central business districts.
For anyone who wishes to journey to select provinces in Luzon, the Araneta BusPort at the ground level of MGC's third phase, Manhattan Heights, is a convenient integrated bus terminal servicing several national bus lines. This innovation promises fast and safe trips, deluxe bus units, air-conditioned waiting areas, courteous service and a secure online ticketing system for the benefit of the commuting public. The nearby outdoor bus terminal along Times Square Avenue offers RO-RO buses that can reach some provinces in Visayas and Mindanao.
Finally, jetsetters and travel geeks may bask in the luxury of having point-to-point service buses from Araneta City to the Manila International Airport—alleviating the struggle of commuting before taking flights.
A Life of Luxury
Contrasting beautifully against the vicinity's fast paced ambience is Manhattan Garden City's surreal and relaxing vibe right within its properties. With thoughtfully conceived recreational amenities and intricately designed podium gardens and sky gardens reminiscent of the stunning Manhattan district in New York City, residents could achieve the kind of vacation-everyday experience that everyone's been craving for.
Dwellers enjoy refreshing swimming pools and other water features, surrounded by copious greenery for that nature-inspired touch to daily pleasures. Indoor and outdoor facilities such as fitness gym, yoga station, jogging paths, playground and basketball and tennis courts, level up not only the residents' health and wellness, but also their social interaction with each other in the neighborhood.
A diverse unit mix ranging from studio and two-bedroom suites, each one with its own balcony that offers amazing views, can satisfy the tasteful preference and living space requirements of families and urban professionals.
A Lifestyle of Firsts
And given the community's history of being the first to build iconic structures such as the 'Big Dome,' home to entertainment and leisure events since the 1960s, it is easy to have the lifestyle of firsts in this community as well.
Living at Manhattan Garden City could mean being the first to catch local and international shows and concerts, the first to grab shopping deals in nearby malls, and getting first dibs on exciting lifestyle offerings within this active live-work-play neighborhood of the Araneta City.
Indeed, a community designed to nurture start-up families, goal-oriented professionals and students, and modern-day entrepreneurs who also aim to balance life's demands with personal desires.
Committed to Lead
Manhattan Garden City is committed to creating an amazing 360-degree experience for all its residents so that it becomes the first choice of home by aspiring owners and investors. No other development could beat its promise of interconnectivity, entertainment, fun, productivity, and convenience.
Simultaneous with the extreme transformation of the Araneta City, this address will rapidly become the country's most coveted condominium development and the leader in luxury transit-oriented homes in the Philippines—a community that will stand witness to the many 'firsts' lined up for its residents.
Be One of the Firsts to Own a Home at Manhattan Heights and Manhattan Plaza's spacious suites. For more information, call 02-810-3333 or e-mail inquire@manhattangardencity.com.